"We must become the change we wish to see." — mahatma gandhi
In Touch: Bo's Beginnings Article
This site is created to promote Bo Bice and his dedicated fans. Many of the photos, banners, gifs and videos have been created by adoring fans. I have chosen my favorites to feature and share. Creators of any gifs or banners on this site are being honored for their artistic abilities and devotion to Bo Bice. Thank you for visiting, I hope you enjoy your time here.
Click here to listen to "Inside Your Heaven" and an interview with Bo
Bo Bice "See The Light"
Click to Play THE REAl THING VIDEO
Wednesday, January 18, 2006
Give me $ome $ugar!!!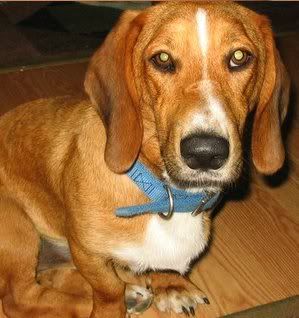 It was worth our wait, Cody and I had our 'jammies-vigil to watch Jimmy Kimmel last night! (We must keep up the stats, '3 people and the dog that watch Kimmel', per lulu.) I had to keep poking him in the ribs to keep him up, he'd had a busy dog-day and really was more in the mood for an early bedtime. Bribing with warm popcorn did the trick! He has become a big Bo Bice fan. It's like we have our own personal 'Bicesquad'; he 'speaks' when I show him Bo Bice's CD and I ask him 'who's our favorite singer?'; his basset/beagle bark sounds like "BO, BO, BO"! Yeah, OK, on the trite side, but true...
Seriously, the real Bicesquadders did Bo proud last night; I saw many faces I recognized from the forums. They were singing and screaming and jumping non-stop. I know it made Bo feel right at home. Speaking of feeling right at home, who did I immediately see over his shoulder as he began singing "The Real Thing"??? Shane Sexton on drums. This confirmed the 'insider information' Bona Fide Bice announced. You just can't go wrong following their information and leads. I was a little surprised when Kimmel announced Bo was appearing that Sugar Money was not mentioned, nor did Kimmel say anything about them the rest of the program. Sort of like Bo snuck 'em in the back door, "SHHHH, come on in guys, just don't wake the parents," feel to it.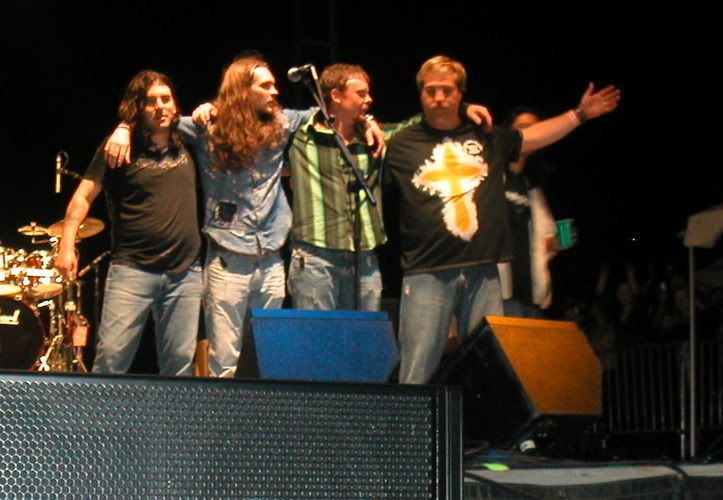 Sugar Money sounded good, and it was great to see them with Bo! Bo looked really good, like he has regained some of the weight he has lost throughout his ordeal. Having his 'brothers' with him can only help.
It seems they had a 'pit stop' on the way to Kimmel:
""
Penelope on BFB
QUOTE
Bo did in fact play with Constantine and Betty tonight at the Roxy. He only came on for one song, but it was long and sorta took a jam bandish kinda turn. Or three. And stopped at the bar for a few Jack and Cokes.They did Sunshine of Your Love, by Cream. Constantine and Bo traded verses, and then sang the chorus together. Bo played geetar. There will be video and audio.
She added
QUOTE
It wasn't the greatest performance by either guy, but you could tell they were just having a ball together
."" Busy night for Bo and the guys; and what fun that would have been to go to; the Con-man and the Bice-man together! Hopefully someone got pics to put up later. This blog-site is one place we may find them:
Constantine Maroulis
.
Much Love.