"We must become the change we wish to see." — mahatma gandhi
In Touch: Bo's Beginnings Article
This site is created to promote Bo Bice and his dedicated fans. Many of the photos, banners, gifs and videos have been created by adoring fans. I have chosen my favorites to feature and share. Creators of any gifs or banners on this site are being honored for their artistic abilities and devotion to Bo Bice. Thank you for visiting, I hope you enjoy your time here.
Click here to listen to "Inside Your Heaven" and an interview with Bo
Bo Bice "See The Light"
Click to Play THE REAl THING VIDEO
Saturday, December 03, 2005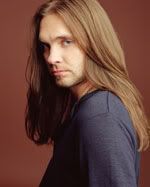 It appears that the "powers-that-be" operating the
RCA Bo Bice
site have greatly improved their site!
Previously it contained relatively no information except what the posters in the forum contributed.
Bo Bice
deserves more than what the old site had previously offered. I really like the new look, great photos and "The Real Thing" music! I guess somebody is listening!!! Click the link to hear some Bo!
Link