"We must become the change we wish to see." — mahatma gandhi
In Touch: Bo's Beginnings Article
This site is created to promote Bo Bice and his dedicated fans. Many of the photos, banners, gifs and videos have been created by adoring fans. I have chosen my favorites to feature and share. Creators of any gifs or banners on this site are being honored for their artistic abilities and devotion to Bo Bice. Thank you for visiting, I hope you enjoy your time here.
Click here to listen to "Inside Your Heaven" and an interview with Bo
Bo Bice "See The Light"
Click to Play THE REAl THING VIDEO
Saturday, September 17, 2005
Bo Bice & the Topic of Art and Politics
Bo Bice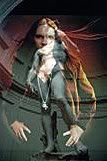 has had his first introduction to the impact his actions and words may have on fans. He recently donated his home to a family displaced from the destruction of hurricane Katrina. He started a charity to benefit the Gulf coast disaster victims. He purchased 100 tickets from his own pocket to give to folks waiting to attend the benefit concert that American Idol held in Syracuse, NY. But, in the midst of all the good he has done and all his good intentions, the fact that there was a chance that he may have written a song with politically controversial lyrics, created some of the biggest buzz. Bo Bice is now finding himself among artists in a position to influence the public.
Musicians have been shown to impact how their fans dress, act and think. Art and politics have proven to be steady bedfellows. The '60's and '70's protest movements identified with the Vietnam War, spawned music aimed at awakening public awareness of the social issues. The creation of the "hippie" generation; folks grew their hair, wore bohemian dress (or ran naked in the fields, ala Woodstock).
Bob Dylan's
song,
"
Times They are a Changin'
", included these lyrics...
"Come writers and critics who prophesize with your pens
And keep your eyes open, the chance won't come again
And don't speak too soon, the wheel's still in spin
And there's no telling who that it's naming
Oh the loser will be later to win
For the times, they are a changing"...
Crosby, Stills, Nash and Young's
Ohio
and
War
by Edwin Starr, War and Peace (1970). More examples of lyrical contributions to the turbulent times.
Visual Arts, communicate commonly held political issue as well, the giant work The Freedom Megaphone
Makes an enormous point of free speech. It's like; "Stand up and make your own voice really heard!"
Adrian Randolph
of Dartmouth College, contends that the Italian Renaissance, his major area of interest, ushered in a new era of art created for very specific political purposes.
"I'm especially interested in the role of art in public life and politics, not just as an illustration, but as a place where symbolic meaning is actively communicated," he says.
Dartmouth News
.
Guernica
by Picaso. Pablo Picasso was not a fan of political art. He created this work following the horrific massacre at Guernica. It is considered Modern Art's most powerful anti-war statement. At the time Picasso created it, the painting was not received well; many considered it the creation of a crazy man.
Through visual, written and audio formats we receive, relate, and communicate. We express ourselves in chosen formats to communicate thoughts, opinions. We are also influenced and impacted by performers and artists whose creative gifts provide windows for our eyes to look through. Current events, politics and disasters open everyone to interpretations.
Let me relay a line from one of my favorite movies, it goes something like this... "with great power comes tremendous responsibility." Bo Bice, welcome to the public arena of arts and politics.