"We must become the change we wish to see." — mahatma gandhi
In Touch: Bo's Beginnings Article
This site is created to promote Bo Bice and his dedicated fans. Many of the photos, banners, gifs and videos have been created by adoring fans. I have chosen my favorites to feature and share. Creators of any gifs or banners on this site are being honored for their artistic abilities and devotion to Bo Bice. Thank you for visiting, I hope you enjoy your time here.
Click here to listen to "Inside Your Heaven" and an interview with Bo
Bo Bice "See The Light"
Click to Play THE REAl THING VIDEO
Monday, August 29, 2005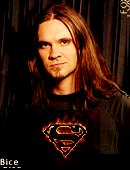 (He's my Superman!)
Exerpts from 'the' article of the moment! (Includes that Hot new pic!)
"Not to mention that Bice seems to be on a mission that runs deeper than mere pop stardom or "Idol"-atry. He aims to, in his own words:
"Be that flower in the middle of Central Park. Be that gift to people that is a gift that you don't realize how much of a gift it is until you're surrounded by the concrete jungle. That's my main goal in life: Show people there is a way to preach without being a preacher."
"I've got the best wife in the world," Bice gushed like a newlywed. "She's the best thing that ever happened to me."
But can she sing, Bo? Could she make the cut on "American Idol"?
"Brother, you do not want to hear her sing," he laughed. "I had to install a radio in the shower."
The man has a sense of humor. And laughter, they say, is the best medicine.
Get well soon,
Bo Bice
, wherever you are."
A spiritual, funny man: the incredible Bice-man.
Link