"We must become the change we wish to see." — mahatma gandhi
In Touch: Bo's Beginnings Article
This site is created to promote Bo Bice and his dedicated fans. Many of the photos, banners, gifs and videos have been created by adoring fans. I have chosen my favorites to feature and share. Creators of any gifs or banners on this site are being honored for their artistic abilities and devotion to Bo Bice. Thank you for visiting, I hope you enjoy your time here.
Click here to listen to "Inside Your Heaven" and an interview with Bo
Bo Bice "See The Light"
Click to Play THE REAl THING VIDEO
Thursday, August 25, 2005
Fox 6 News Interview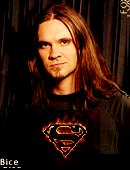 The BiceMan

Re: Bo on Fox 6 News B'ham
Bo Bice is on bed rest, his condition had been life-threatening. He was glad, however, to be able to be with his family and "
to get to see my son's birth
." He also stated that for his son's sake, he would have to sell his home in Helena because the "papparazzis" were stalking him, but he was not turning his back on Birmingham ("I don't want anybody thinking that I'm just up and leaving Birmingham for any reason") and would look into buying a home in Birmingham later on.
He broke down when he said that he was sorry to disappoint anyone by having his CD put on hold and not being able to perform:
"I just want everybody out there to know, that I thank them for their support. I'm sorry if I let them down, but if they would give me one more chance, I'll make it up to them." He was sobbing as he said that.
This will not impeed the BiceMan's Star from Rising. Rest and get strong. Enjoy the time of your son's birth for this is what life is about. Fans will be standing behind, beside and waiting.
Much Love